News
---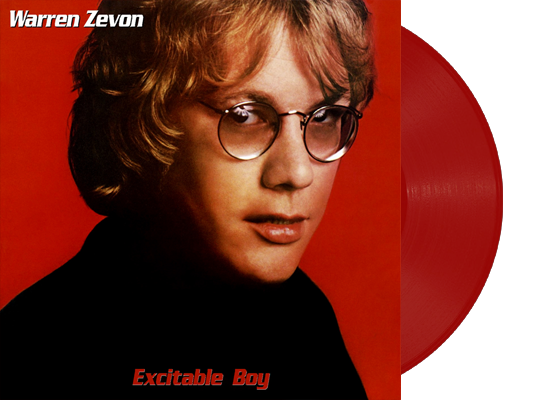 The Warren Zevon / Friday Music Series Continues
Excitable Boy on 180 Gram Translucent Red Audiophile Vinyl!
1978 would never be the same, a relatively obscure but much respected rock singer/songwriter from Chicago named Warren Zevon released his third album on Asylum Records, and as 3 turned out to be his lucky charm, "Excitable Boy" would go on to be one of the most enjoyable rock albums of the classic rock era.
Complete with a number of hit radio tracks like "Johnny Strikes Up The Band" and "Excitable Boy", the album really took off with airplay on the seasonal favorite "Werewolves Of London" as well as the album hard rock closer "Lawyer, Guns And Money", and with all of this going on, Warren Zevon would be on very successful journey for the next few decades until his untimely death in 2003.
Early on in his career, the late great Warren Zevon would find his earlier songs and productions on albums from the likes of The Turtles, The Everly Brothers, but his currency took off when Linda Ronstadt recorded several of his songs like "Hasten Down The Wind" and "Poor Poor Pitiful Me", where he would find a much larger audience and support from fellow Asylum Records artists like Linda Ronstadt and Jackson Browne.
Jackson Browne for years was playing "Werewolves Of London" in concert and would talk about Warren Zevon, especially at shows in Bryn Mawr, PA at the famous Main Point club. So, it was a natural progression when Jackson and guitar slinger Waddy Wachtel would go on to produce the "Excitable Boy" album.
Featuring all of the amazing songs already mentioned, as well as more great fare like "Roland The Headless Thompson Gunner" "Accidently Like A Martyr" and "Veracruz", the Excitable Boy album would be his most famous album and continues to be an important fabric of the then burgeoning Los Angeles music scene from the late 60's into the late 70's.
Warren Zevon, Jackson Browne and Waddy Watchtel brought many of their friends on board for the party, like Linda Ronstadt, Mick Fleetwood and John McVie from Fleetwood Mac, Leland Skalar, Russell Kunkel, Jorge Calderon, Jeff Porcaro from Toto/Steely Dan, and so many other notables, it really was an amazing time for classic rock fans.
Friday Music is no stranger to the music and artistry of the great Warren Zevon, therefore we are very pleased to announce the super limited first time ever 180 Gram Translucent Red Vinyl edition of "Excitable Boy."
Mastered impeccably by Joe Reagoso (Warren Zevon/Linda Ronstadt/Byrds) from the original Asylum Record tapes, this will become a much sought after audiophile vinyl title for classic rock connoisseurs everywhere.
For this amazing release, we are also including the original Lp artwork graphics, as well as the rare inner sleeve, complete with lyrics.
Order
HERE
.
---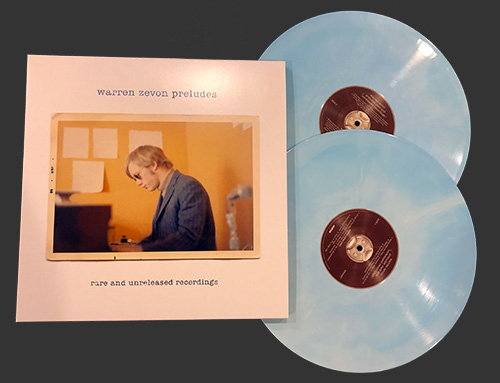 Preludes: Rare and Unreleased Recordings
2LP RSD Release Coming June 12, 2021!
Following Warren Zevon's death in 2003, his son Jordan Zevon discovered 126 unreleased outtakes and demos in a piano-sized touring case. This discovery would be distilled down to the best of these recordings and eventually released on the 2007 2CD set titled Preludes. When the album was released, it featured sixteen unreleased recordings from Zevon's personal archives, as well as six never-before released songs and a five-part 2000 interview with KGSR's Jody Denberg.
Now, for the first vinyl release, Preludes will be pressed on two Sky Blue vinyl LPs, and features all of the exclusive bonus tracks as well as a beautiful 20-page perfect bound book, all packaged in a hardbound slipcase. Limited to 3000 units worldwide.
Side 1 (22:28)
1-1 Empty Hearted Town* 3:04
1-2 Steady Rain* 4:18
1-3 Join Me In L.A 2:27
1-4 Hasten Down The Wind 2:30
1-5 Werewolves Of London 3:36
1-6 Tule's Blues 3:02
1-7 The French Inhaler 3:31
Side 2 (22:54)
2-1 Going All The Way* 2:15
2-2 Poor Poor Pitiful Me 3:09
2-3 Studebaker* 2:24
2-4 Accidentally Like A Martyr 3:05
2-5 Carmelita 3:56
2-6 I Used To Ride So High 2:43
2-7 Stop Rainin' Lord* 2:11
2-8 - Back In The Highlife 3:11
Side 3 (21:12)
3-1 The Rosarita Beach Cafe* 4:08
3-2 Desperados Under The Eaves 3:44
3-3 Workin' Man's Pay* 2:06
3-4 Frozen Notes 1:42
3-5 Some Kind Of Rider* 3:20
3-6 I Was In The House When The House Burned Down 3:02
3-7 Don't Let Us Get Sick (Solo Acoustic) 3:10
Side 4 (21:28)
4-1 Warren Speaks On Songwriting And The Early Days Of His Career. 7:14
4-2 Musings On Mortality, Song Noir, Religion In His Music And The King Of Rock N' Roll. 5:07
4-3 A Chat About The Producers Of "Life'll Kill Ya", The Album's Stark Sound And Other Singers Covering His Songs. 5:09
4-4 His Take On Steve Winwood's Classic, The Split Personality, Images And Inspirations In His Compositions. 3:58
4-5 His feelings about the Rhino Records 2 CD anthology of his work, the size of his audience, having his music used on TV shows and movies, acting, performing and the response to "Don't Let Us Get Sick." 5:18
*denotes a song never before released on any Warren Zevon album
More info can be found
here
.
---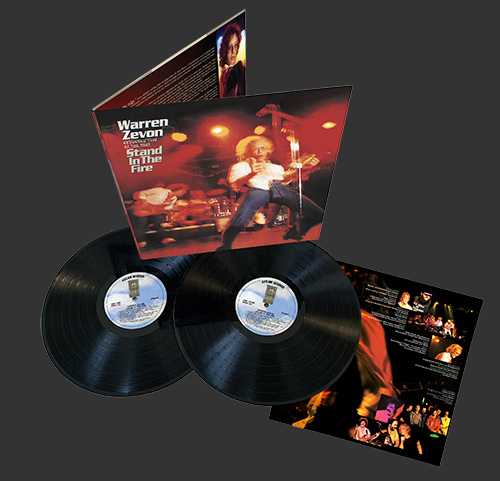 Stand In The Fire: Live At The Roxy Deluxe Edition LP
Each month, fans help choose which out-of-print, new-to-vinyl or previously unreleased records Run Out Groove will put into production. The results are in, and Warren Zevon's 1980 live album Stand In The Fire: Recorded Live At The Roxy is getting the deluxe vinyl treatment.
Release Information
Pre-order opens: August 27, 2020
Pre-order closes: October 8, 2020
Street date (tentative): February 12, 2021
PRE-ORDER HERE
About The Release
- First reissue on vinyl in the US since the 1980s.
- Deluxe edition is expanded to a 2LP set that includes 10 bonus tracks: 4 songs previously unavailable on vinyl and 6 songs previously unreleased on any format.
- Lacquers cut at Sam Phillips Studio, pressed on 180g black vinyl, comes in a deluxe tip-on style gatefold jacket and features previously unseen photos and an insert.
- Limited and individually numbered based on pre-orders. One time pressing!
Track Listing
Side A
1. Stand In The Fire 3:26
2. Jeannie Needs A Shooter 4:00
3. Excitable Boy 3:52
4. Mohammed's Radio 4:45
5. Werewolves Of London 4:48
Side B
1. Lawyers, Guns and Money 3:49
2. The Sin 3:18
3. Poor Poor Pitiful Me 4:08
4. I'll Sleep When I'm Dead 4:28
5. Bo Diddley's A Gunslinger / Bo Diddley 4:15
Side C
1. Johnny Strikes Up The Band 3:22 *previously unavailable on vinyl
2. Roland The Headless Thompson Gunner 4:29 *previously unreleased
3. Play It All Night Long 3:53 *previously unavailable on vinyl
4. Night Time In The Switching Yard 4:31 *previously unreleased
5. Gorilla You're A Desperado 2:44 *previously unreleased
Side D
1. Bad Luck Streak In Dancing School 3:44 *previously unreleased
2. The Sin (alternate slightly longer version) 4:09 *previously unreleased
3. Frank and Jesse James 4:14 *previously unavailable on vinyl
4. Hasten Down The Wind 3:02 *previously unavailable on vinyl
5. A Certain Girl 5:35 *previously unreleased
---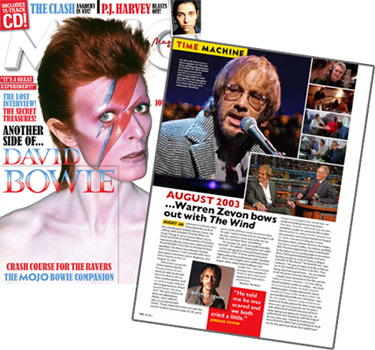 Warren Zevon Featured In Mojo Magazine 322
The recording of Warren Zevon's final album, The Wind, is the focus of Mojo's September 2020 Time Machine section. Memories of Zevon's Grammy Award winning album, recorded during his final year, are recalled by quotes from co-producer Jorge Calderón and son Jordan. Included are pictures of Zevon's final performance on The Late Show with David Letterman, private images with his daughter, Ariel and recording the album with friends.
Elsewhere in the issue, a never-before published interview with David Bowie, plus stories and song with unusual perspectives on rock's changeling. Also in this issue: the crazy tale of The Clash's Sandinista!; PJ Harvey's irresistible rise; Joni Mitchell on the enigmatic David Blue; X revisit the grime and the glory of LA's punk heyday; legendary label boss/A&R Clive Davis on Janis, Bruce, Aretha, Patti and more.
Mojo Magazine is available at your local book retailer and on Amazon
here
.
---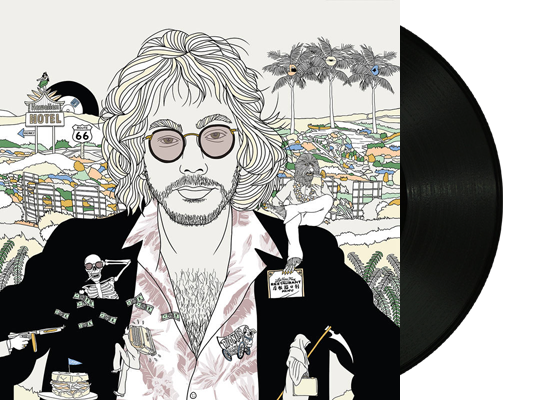 Warren Zevon's Greatest Hits (According To Judd Apatow)
Judd Apatow, producer/director of Anchorman, The 40 Year Old Virgin, Bridesmaids, and many more, celebrates Warren Zevon's back catalog with a new, limited vinyl release exclusively for Record Store Day 2020. Produced and curated by Apatow and Bill Inglot, Warren Zevon's Greatest Hits (According To Judd Apatow) collects Judd's favorite hits, live performances and deep cuts.
Every year, Apatow celebrates Warren Zevon's life with a tribute at Largo in Los Angeles, featuring performances by Zevon's friends. For this curated release, a bonus track from the March 2016 Largo Show performed by Taylor Goldsmith (of the band Dawes) and Blake Mills is included alongside twelve classic Zevon performances.
A portion of proceeds from this album go to the Asbestos Disease Awareness Organization (ADAO), an independent nonprofit organization, for which Jordan Zevon has served as the National Spokesperson for 15 years. In 2003, his father, musician Warren Zevon, passed away from mesothelioma, a preventable asbestos-caused cancer that takes thousands of lives each year.
Warren Zevon's Greatest Hits (According To Judd Apatow) is available exclusively in brick and mortar record stores for the annual Record Store Day event on October 24, 2020. Limited edition of 4,500 from Rhino Records.
SIDE ONE
1. Carmelita
2. The Indifference Of Heaven
3. Accidentally Live A Martyr
4. Backs Turned Looking Down The Path
5. Renegade
6. Desperados Under The Eaves
7. Something Bad Happened To A Clown (Live performance by Taylor Goldsmith & Blake Mills)
SIDE TWO
1. Junko Pardner (by Hindu Love Gods)
2. The French Inhaler (Live from London, 1992)
3. Mohammed's Radio (Live from The Roxy, 1980)
4. Werewolves Of London (Live from The Roxy, 1980)
5. Poor Poor Pitiful Me (Live from The Roxy , 1980)
6. Hasten Down The Wind (Live from New York, 1992)
---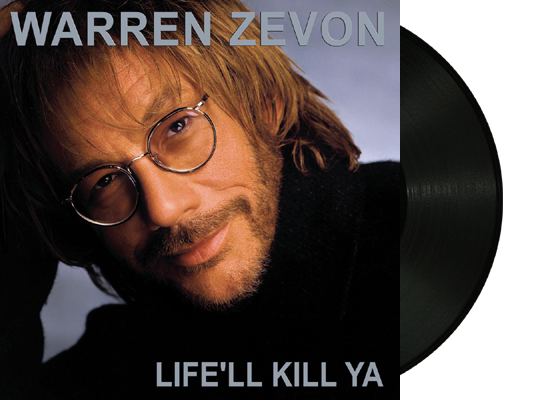 Life'll Kill Ya 20th Anniversary Vinyl

Following a decade of stagnation and waning interest, legendary singer-songwriter Warren Zevon, who masked his soft-side with his sarcastic, lyrical prose, entered the new millennium with his acclaimed 10th studio album Life'll Kill Ya. Though the album predated Zevon's fatal cancer diagnosis by two years, its title track, as well as standout cuts like My Shit's Fucked Up and Don't Let Us Get Sick, brought the album critical praise as a "mournful lament on the aging process and the inevitable decay that accompanies it."

Available June 20, 2020 for the first time on vinyl, and limited to 1000 copies, Ship To Shore PhonoCo's 20th anniversary reissue of Life'll Kill Ya features brand-new, expanded liner notes and never-before-seen photos from Zevon's son, Jordan, Taylor Goldsmith (Dawes), as well as collaborator Jorge Calderón.

SIDE ONE
1. I Was in the House When the House Burned Down
2. Life'll Kill Ya
3. For My Next Trick I'll Need a Volunteer
4. Porcelain Monkey
5. I'll Slow You Down
6. Hostage-O

SIDE TWO
1. Dirty Little Religion
2. Back in the High Life Again
3. My Shit's Fucked Up
4. Fistful of Rain
5. Ourselves to Know
6. Don't Let Us Get Sick
---
Rhino releases Excitable Boy On Glow-In-The-Dark Vinyl

Rhino is kicking off 2020 with the annual Start Your Ear Off Right campaign! Beginning on Friday, January 10th and continuing throughout the month, Rhino is releasing limited edition vinyl titles from some of the most celebrated acts in music including: The Replacements, Bad Company, Deep Purple, MC5, Stevie Nicks, Warren Zevon, Uncle Tupelo, Devo, Van Morrison, Angelo Badalamenti, Ramones, and Sex Pistols. These will be available at participating independent and brick and mortar retail outlets.

Warren Zevon's top selling 1978 album, Excitable Boy, will be available January 17, 2020 on exclusive red glow-in-the-dark vinyl. Limited to 3,350.

SIDE ONE
1. Johnny Strikes Up The Band
2. Roland The Headless Thompson Gunner
3. Excitable Boy
4. Werewolves Of London
5. Accidentally Like A Martyr

SIDE TWO
1. Nighttime In The Switching Yard
2. Veracruz
3. Tenderness On The Block
4. Lawyers, Guns And Money
---